Occupational therapy is "an educational and practice-oriented health profession" primarily focused on rehabilitation. Despite their similarities, occupational therapy differs than physical therapy. Both are forms of rehabilitative therapy but focus on different areas of recovery.
What Does an Occupational Therapist Do?
A physical therapist is often employed to facilitate healing after a traumatic injury or to improve the overall quality of life for someone with chronic pain. An occupational therapist (OT), on the other hand, is specially trained to help patients perform daily activities safely and effectively while also promoting confidence, independence, and happiness.
Occupational therapists are often hired to assist with:
Recovery from surgery, injury or stroke
Pain management
Memory disorders, such as Alzheimer's or dementia
Neurological conditions, including MS or cerebral palsy
Joint disease (e.g. arthritis)
Carpal tunnel syndrome
Mental health disorders
Intellectual/developmental disabilities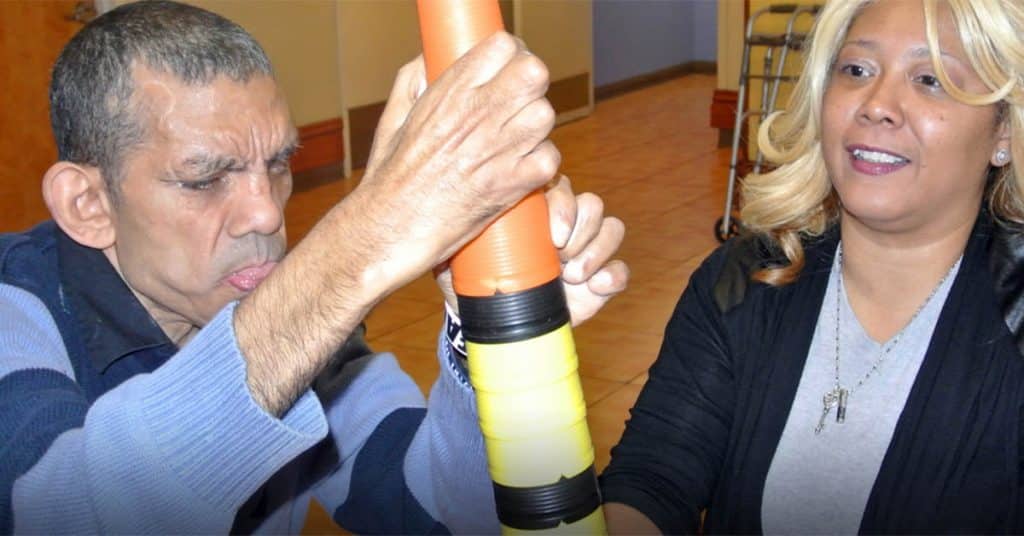 How OT Helps Individuals with IDD
Anyone can benefit from the services of an occupational therapist, but an OT can play a significant role in the lives of people with Intellectual and Developmental Disabilities (IDD). According to the American Occupational Therapy Association, individuals with IDD have "limited cognitive capacities and adaptive behaviors" that curtail their participation in typical daily activities.
As a result, people with IDD "exhibit less community participation, fewer social relationships, and lower leisure and employment participation" than those without. However, that doesn't mean that they are any less willing or deserving of these things. With additional opportunities and support, people with IDD are more than capable of participating in community activities.And when they live and actively participate in the community, there is an overwhelmingly positive effect for all involved. Not only does it improve their socialization abilities and personal growth, it also helps them adapt more fully to an integrated adult lifestyle.
That's where occupational therapists come in. It is their role as a rehabilitative professional to help oversee community integration through various age/ability-appropriate and interest-targeted activities. For a younger person, this may mean focusing on school, home, and recreation, whereas for an adult, it may be involve assistance with employment, home management, leisure, and social activities.
A Fundamental Right
Ultimately, the purpose of pairing individuals with IDD with an occupational therapist is to facilitate and encourage participation in society—arguably, a fundamental right for all people, regardless of age, ability, or other factors. OTs and their patients work to develop a customized set of skills, interests, and goals. The OT then assists them in reaching those goals. You could almost think of an OT as a combination of physical therapist, educator, and life skills coach.
However, professional OTs are only one part of the equation: making communities more welcoming to those with IDD involves an overarching commitment to diversity, non-discrimination, and accessibility for all people.
To learn more about occupational therapy for individuals with IDD at the Independent Living Association, reach out today.