Living with a disability poses particular challenges, both for the individual and for their support system. Of course, everybody deals with their fair share of challenges; it's part of life. But individuals with disabilities have unique challenges compared to those of their abled counterparts.

This isn't to say that all individuals with disabilities encounter the same kinds of obstacles in life. There is an extreme diversity of lived experiences for folks with disabilities. And yet, certain demands on those with disabilities seem to transcend age, disability type, and the individual's support system.

Systemic Struggles
The most significant barrier for individuals with disabilities and their families tends to be financial. This burden can include:
Obtaining services including healthcare, education, and social services
Purchasing or renting equipment and devices (e.g., walkers, wheelchairs, hearing aids, feeding tubes)
Modifying the home to accommodate mobility limitations (installing ramps, stairlifts, widened doorways, curbless showers, etc.)
Transportation
In certain situations, there is financial compensation available for these kinds of items and services. However, working through the bureaucratic labyrinth of eligibility criteria to receive these payouts is a burden unto itself. More often than not, the support system is left to shoulder the load.
Service coordination is yet another obstacle for people with disabilities to overcome. Having a primary care provider is one thing, but juggling physical and occupational therapists, a counselor, a dietician, and social workers is quite another. Often, these service providers aren't all on the same page, leading to major discrepancies in case management. While it's never the intent of these service providers to create gaps in the system, it still happens with unfortunate regularity.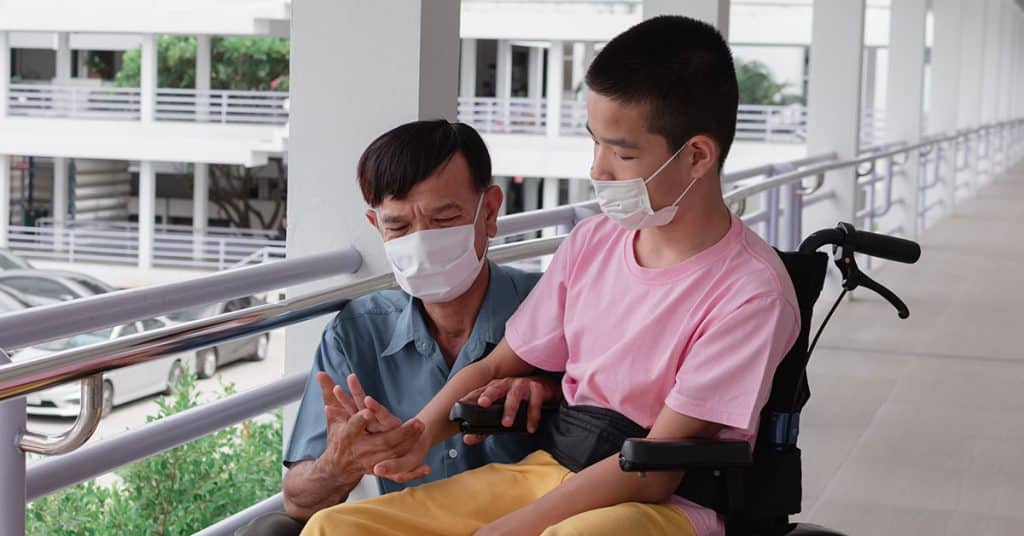 Daily Difficulties
On top of the flawed systems that people with disabilities have to navigate, there are also the daily struggles. Caregivers battle with mental, physical, and emotional fatigue. The presence of a disability can sometimes complicate marital or sibling dynamics. Without appropriate boundaries, the primary caregiver can feel consumed by their role as the individual's mainstay of support. On occasion, codependence may ensue. 
Likewise, the individual with the disability may struggle with feelings of guilt, shame, over-dependence, and lack of freedom. Feeling reliant on the family can make them feel as though they lack independence or that they are a burden on their loved ones, which breeds resentment on both sides.
Outside of the home, perceptions of disability may run towards negativity. Unfortunately, society has been fed certain stereotypes about what it means to live with a disability. This can contribute to unhelpful and even discriminatory attitudes and behaviors, and no one wants to live with this burden.
In the time of COVID, the everyday needs of people with disabilities can become taxing. Masks, social distancing, and obsessive disinfection complicate regular care routines and create problems for care providers who serve multiple clients.
Now, more than ever, we can't forget that the already overburdened care system is strained beyond capacity. The COVID pandemic disproportionately endangers folks with disabilities, and they need your support. If you would like to learn more about ILA services, donating or to find out what you can do to help, reach out to us today.